All Donations Make a Difference

How you can help
The Molly Bear Foundation provides supplemental funding to families raising children with Trisomy 18, a genetic condition where an additional appearance of the 18th chromosome causes varying degrees of physical, mental and developmental deficiency. Trisomy 18 occurs in 1:3000 live births and, sadly, many children do not live to their first birthday. These are special children who deserve the love and attention their families provide and are owed the opportunities they receive.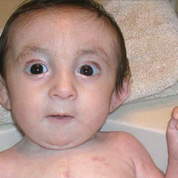 Your donation is tax-deductible and will be used, in its entirely, toward furthering the mission of the Molly Bear Foundation. To keep the organization's administrative costs down, please be sure to enter your email address in the donation form or on your check; we will send your tax receipt via email, where possible.

Mailing address, and paypal gateway provided, please see below.

Ways to Give

to The Molly Bear Foundation, Inc.
You can donate online by clicking the Donate button below.

If you prefer to send a check, please make it payable to Molly Bear Foundation and mail to:
Molly Bear Foundation, Inc.
PO BOX 1258
Hightstown, NJ 08520
Please note: clicking the donate button below will take you to Paypal's official web site. You will not need a Paypal account.